Media
News
Liberal Democrat Parliamentary Candidate for Hampstead and Kilburn Maajid Nawaz has welcomed the announcement by the Home Secretary that the infamous 'Go Home' vans will not be used again to try and crack down on illegal immigration.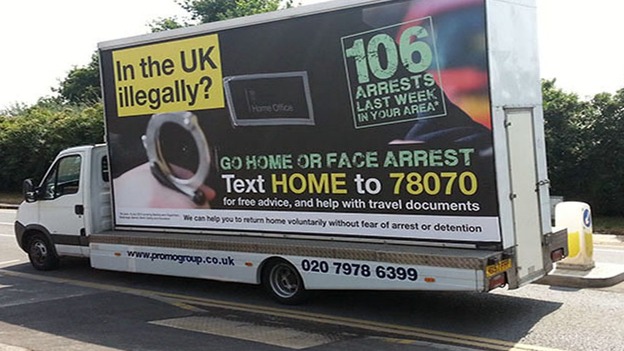 Maajid Nawaz, Lib Dem candidate for Hampstead and Kilburn commented:
"The Conservatives did not inform Lib Dems in Government about the vans, surely knowing they would never agree to them.

This offensive idea did nothing to help build a stronger economy or a fairer society. I remain angered that the people of Brent had to have such vans on their streets, but I am pleased that thanks to the Lib Dems the vans have had to go home and stay home.

When even UKIP describe your idea as 'disturbing', you know you've made a mistake."
Maajid added,
"Britain needs a fair and robust immigration policy that welcomes hard work and talent into our country, so we can all enjoy the economic benefits that brings. It is quite clear that the vans did nothing to achieve that."

"During their time in Government, Labour removed exit checks at Britain's borders, making proper monitoring of immigration much harder, but Lib Dems in Government are pushing for these to be reinstated. Unlike the other two parties, our priority for immigration is having an effective system that helps our economy grow."
The vans were deployed as a pilot in various areas across London, including Brent. Not only were they offensive and divisive, they were also highly ineffective. Even the Conservative immigration minister conceded that only one person in the UK illegally went home as a result of seeing the vans.
Lib Dem party president Tim Farron explained Lib Dem opposition to the vans on Twitter:
Other Lib Dem MPs expressed their agreement:
Lib Dem Parliamentary Candidate Maajid Nawaz has welcomed the news that over 300 extra school places will be made available in Brent, and the 100 extra primary school places Lib Dems helped create in Camden.
Numerous schools throughout Brent will benefit from the Targeted Basic Need programme, which will provide £820m to fund an extra 74,000 school places in areas of need across the UK, including Manor School and Islamia Primary in Hampstead and Kilburn.
Maajid said,
"I'm proud that the Lib Dems in Government have delivered this investment in Brent's children. For years, the last Labour Government failed to invest in school places. This money, together with the £55m already announced by the coalition Government, will make a real difference.

"Local and National Lib Dems are taking real action to ensure that all children can attend a local school, including helping to set up a brand new primary school in the constituency."
Read the full story on the Hampstead and Kilburn Lib Dems website.
Maajid Nawaz joins David Dimbleby for BBC Question Time with Theresa Villiers, Vernon Coaker, John O' Dowd, Ian Paisley Jnr and  Peter Tatchell in Belfast. Watch here
RADICAL: MY JOURNEY FROM ISLAMIST TO EXTREMIST TO A DEMOCRATIC AWAKENING
Maajid Nawaz's critically acclaimed autobiography is now available to pre order as an Ebook. Click image to  order.
Read all news stories
Media
Click to see Maajid Nawaz reflect on the Boston terrorist attacks & how Jihadism has now become now a brandwith Anderson Cooper of the AC360 show
In his newly-published autobiography, "Radical: my journey from Islamist extremism to a democratic awakening", Maajid Nawaz, chairman of the British counter-extremism think tank Quilliam Foundation, recounts his transformation from being a member of an extremist party to founding one of the world's first counter-extremism organisations.
Nawaz began as a member and leader in Hizb ut-Tahrir — a party calling for the establishment of an Islamic caliphate — then abandoned his radical ideas in an Egyptian prison before returning to Britain to combat the same ideology he had previously worked to spread.
Al-Shorfa spoke to Nawaz about his personal journey and his views on al-Qaeda, the Taliban and extremism. (more…)
View all videos